Teller Cash Recyclers
A cash recycler reduces vault transactions and the need for dual control and wasted manpower, resulting in a much higher efficiency gain for your financial institution.
A cash recycler increases speed and accuracy of counting cash while checking the mixed denominations for counterfeit bills. This cash automation process allows your tellers to focus on your client's needs rather than the concern of being out of balance or counting cash multiple times to ensure accuracy.
A cash recycler is compact for use on your teller lines and is secured with a UL291 level 1 safe and optional alarm sensors.
Absolute Financial brings you Nautilus Hyosung teller cash recyclers that will provide enhanced productivity and security for your branch as well as improved customer satisfaction and increased branch sales.
MS500
Efficient. Secure. Compatible.
 The MS-500 is a digitally secure, fast and feature-rich cash recycler for financial institutions. The MS-500 modular design and high capacity cassettes drive Hyosung's industry-leading availability and serviceability.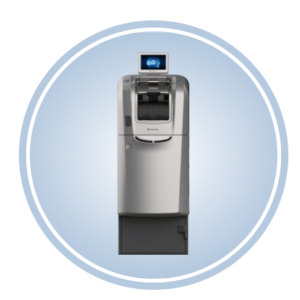 MS500S
Compact and Full Function.
    The MS-500S delivers all of the functionality of the MS-500 standard except, in a small package. Features such as transit cassette, self-audit, and continuous feed are all included in this mini powerhouse.